Top 5 Latest Inspiring Cape Kurtis Styles
Cape Kurtis style is the new trend and style of beautiful and modern ethnic wear with some amazing patterns and designs printed on them, making it look more interesting and attractive. The Kurtis are paired with some beautiful and amazing pants or salwar. They are worn at some special functions, parties, events and festivals. Kurtis is also worn as casual wear, and for a classy look, they are also paired with denim jeans. Long and straight plain slit Kurtis paired with skinny denim jeans gives the wearer a stunning look.
An alluring cape Kurti can be a great choice for any occasion and is a perfect dress for any auspicious day or function. A full sleeve pattern and a beautiful neckline complete the overall look of the attire. The outfit is detailed with some amazing prints and embellishments using stone, pearls, diamonds and some beautiful laces. 
The attire is available in many different patterns and designs. The length of the Kurti also varies depending upon its pattern and design. The outfit is detailed with some beautiful prints and embellishments that make it look more beautiful. 
It is available in many different fabrics such as cotton, silk, georgette, chiffon, rayon, etc. The ones that are worn on a casual basis are usually found in soft and fluffy fabric like cotton, georgette or rayon. Silk is always considered for special occasions and festivals. In Southern India silk is considered as an auspicious fabric that is worn at weddings, pujas and other special occasions. Wearing a floor-length silk Kurti at reception or any other wedding function gives you a glorifying look. Pairing the Kurti with different types of pants or a matching salwar is just perfect for a complete ethnic or traditional look.     
Some of the beautiful and alluring cape styles Kurtis catalogue are listed below, have a look at it and get your favourite one.
1. Mustard Yellow Cape Style Kurti:
It is hard to take your eyes off from this attire. This double-layered cape style Kurti with some beautiful prints and front slit is giving a ravishing style statement. The three-fourth sleeves detailed with red colour thread work is giving the outfit a glamorous look. The bottom layer consists of some tiny and adoring multicolour flowers and a broad orange and yellow border. 
Tiny red buttons in front make it look more fantastic. Simple round neck and perfect hem that is flared from the waist to bottom is a proper pattern for a cape style Kurti. Pairing it with some beautiful accessories such as rings, earrings and bracelets with simple makeup and open hairs will make you get thousands of compliments.
2. Maroon and Blue Anarkali Kurti:
It is one of the most drastic colour combinations, blue and maroon giving a perfect look to the wearer. Plain flare and printed cape with some pretty patterns and stylish sleeves are making the outfit a worth choosing attire. White colour design on the blue cape and simple neck design and small tassels hanging at the waist are making this ethnic wear proper for any party. 
Pair it with an ankle-length legging or a straight fitted pant will complete your ethnic look. A beautiful bracelet and small earrings worn as accessories with this outfit will look more amazing. Wear it at small gatherings or events and flaunt your elegant look there—a simple and sober outfit made of comfortable fabric and preferable for any climatic condition.
Suggested Article
3. Black and Peach Combination:
A simple and gorgeous peach and black coloured Kurti paired with a plain black palazzo is a perfect ethnic wear for any gatherings or event. Front slit and printed laces with geometrical designs and a simple boat neck are just awesome. Three-fourth sleeves and a voluminous fabric is perfect for a comfortable feel. Easy to wear and manage with the proper fitting is a great pick for a stylish and unique look. Don't forget to check the top 10 trendy dress material.
Pairing matching footwear, simple makeup and open hairs are a deadly combination with this attire. As the pattern of Kurti is a straight cut, it will look cool on each and every body type. If you are willing to look slim and tall, then this one can be a perfect choice.
4. Black and Flared Kurta:
Complete your wardrobe with this stunning attire. A plain black Kurti with side slit and multicolour design making a beautiful flare is just too amazing to carry. Pairing it with a bright coloured bottom gives the wearer a super gorgeous look. A simple neck and three fourth sleeves with colourful tassels at the front is making the outfit look more adoring. Wearing a matching palazzo or a plain sharara with this kurta is an awesome outfit for parties or events.
Thinking to wear something different at your friend's sangeet ceremony than this one can be the best option for this day. Matching some simple accessories and perfect footwear will complete your overall look. 
5. Some Traditional Prints: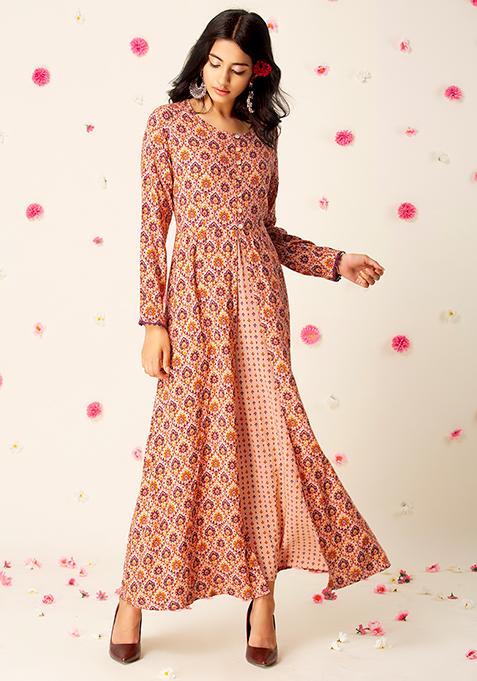 Block print is one of the most ancient types of the printing technique that is practised in India since ages. In this technique, designs are carved on a wooden block and then printed on the cloth using dyes and colours. So many different types of designs and patterns such as flowers, leaves and paisleys are printed on the cloth using the block. 
The trend of block printed Kurti is never-ending. This one with small motifs and simple pattern looks so adoring and comfortable. The cool and light colour designed with a simple round neckline and long sleeves gives the wearer a fresh feel. Wearing it on a hot summer day will give you a comfortable and cool feel.
Read more Fashion related articles on The Weekly Trends magazine.